ASAP Rocky and Rihanna's son is celebrating his first birthday soon. And although he's only been in the public eye for less than half a year, Baby Fenty-Mayers has already been serving up some impressive looks. It's not surprising. Matthew Henson (ASAP Rocky's stylist who formerly worked at Complex) said in a recent interview with Vogue that Pretty Flacko created many of the baby's recent looks.
"All the baby's outfits are him," Henson told Vogue. "He's overseeing the creative direction of the baby and he's incredible at it."
Rocky has dressed Baby Fenty-Mayers in Timberland boots, hoodies from underground New York streetwear brands, and even vintage baby clothing grails by Dapper Dan. It's clear that Rihanna, Rocky, and their son are an unstoppable fashion trio to reckon with. Here are some of Baby Fenty-Mayers' most memorable outfits thus far. 
Baby Fenty-Mayers Repping LA in Paris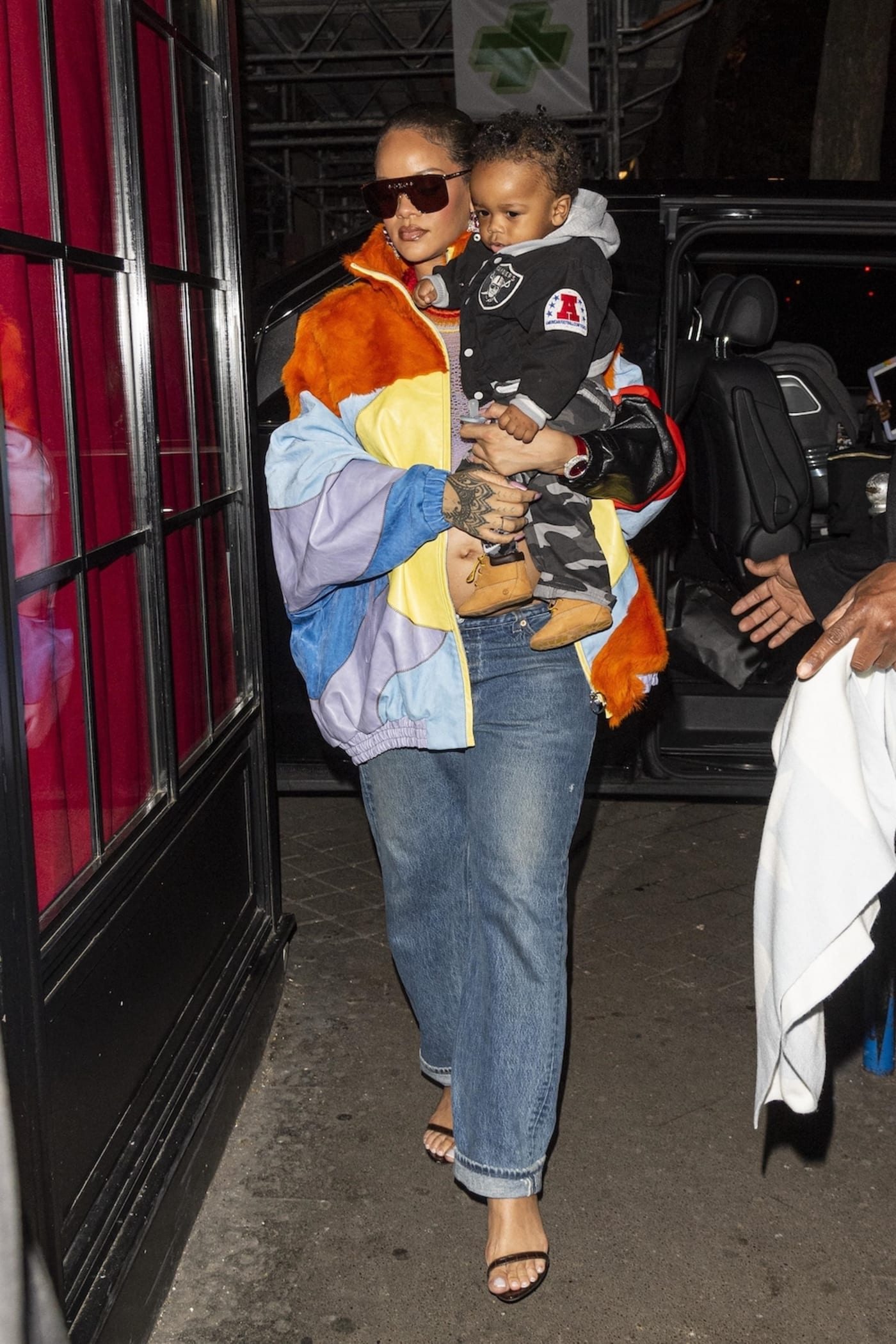 Standout Piece: A vintage NFL Kids Los Angeles Raiders varsity jacket.
ASAP Rocky and Rihanna were out and about in Paris this month reportedly looking for a home in the City of Lights. Baby Fenty-Mayers wore a vintage Los Angeles Raiders varsity jacket, a pair of Timbs, gray camouflage pants, with a pair of matching Nike socks. It was truly a fit his father could have worn. Of course, RiRi didn't skimp on her own outfit which included a multicolor jacket and jumper from Marni's Spring 2023 collection, jeans from Agolde, Louis Vuitton sunglasses, Reza's Corne D'abondance earrings, and Tom Ford padlock sandals.
Baby Fenty-Mayers' Chill All-White Outfit For Date Night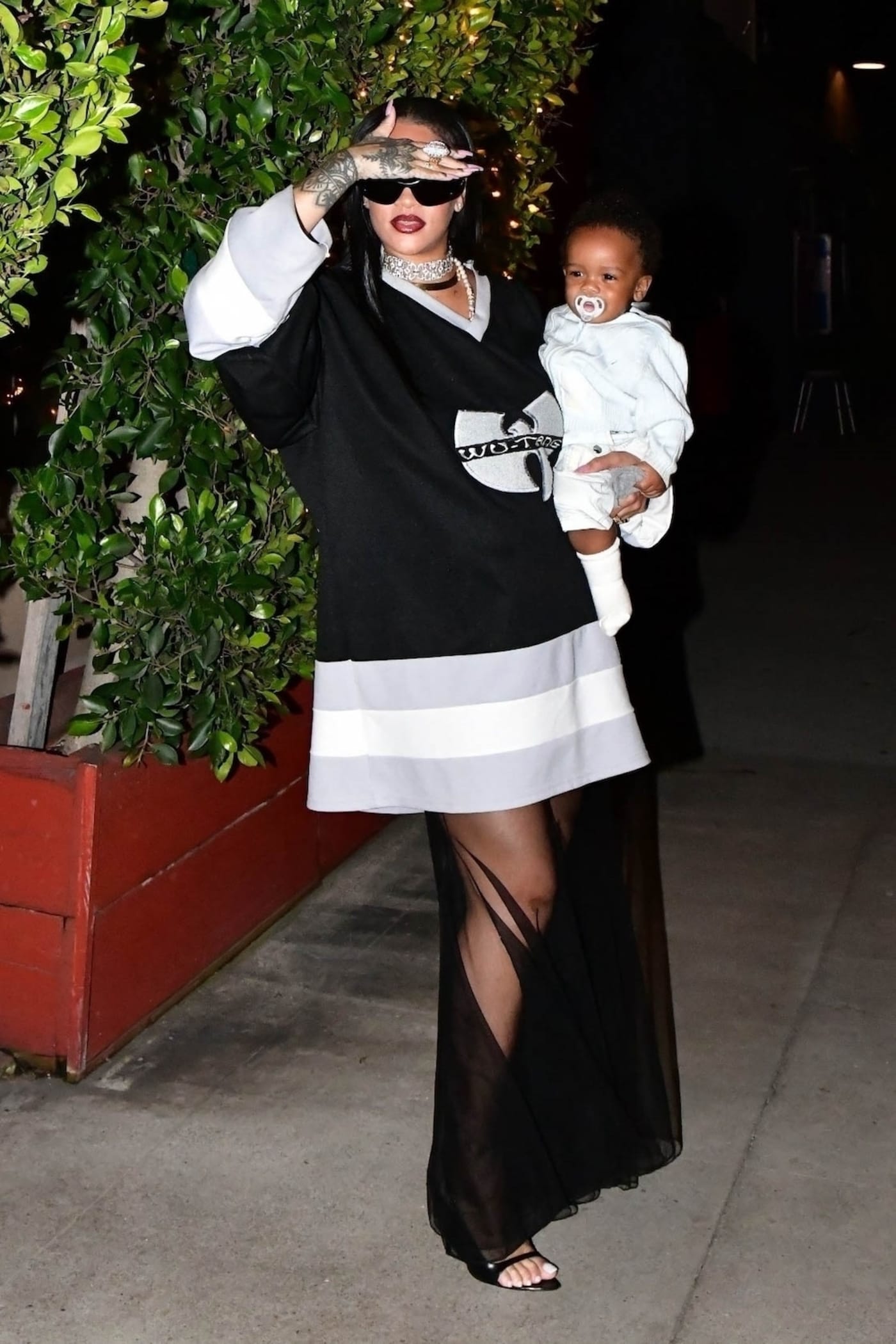 Standout Piece: Rihanna's vintage Wu-Tang Clan jersey
Rihanna and Rocky enjoyed a date night in Santa Monica this month by dining at the Italian restaurant Giorgio Baldi. Baby Fenty was also in attendance, wearing a calm, all-white linen outfit with a humble pair of socks. Although Rocky came dripping in an luxurious all-black leather look, it was Rihanna's outfit that really stole the show. RiRi arrived to dinner wearing a Saint Laurent skirt, Saint Laurent heels, a pair of Maison Margiela x Gentle Monster sunglasses, iced out jewelry, and a vintage Wu-Tang Clan jersey. Yes, that is the same Wu jersey that Drake wore for his famous Nothing Was The Same Alife Sessions gig.
A Neon Green Hoodie to Match With Papa Rocky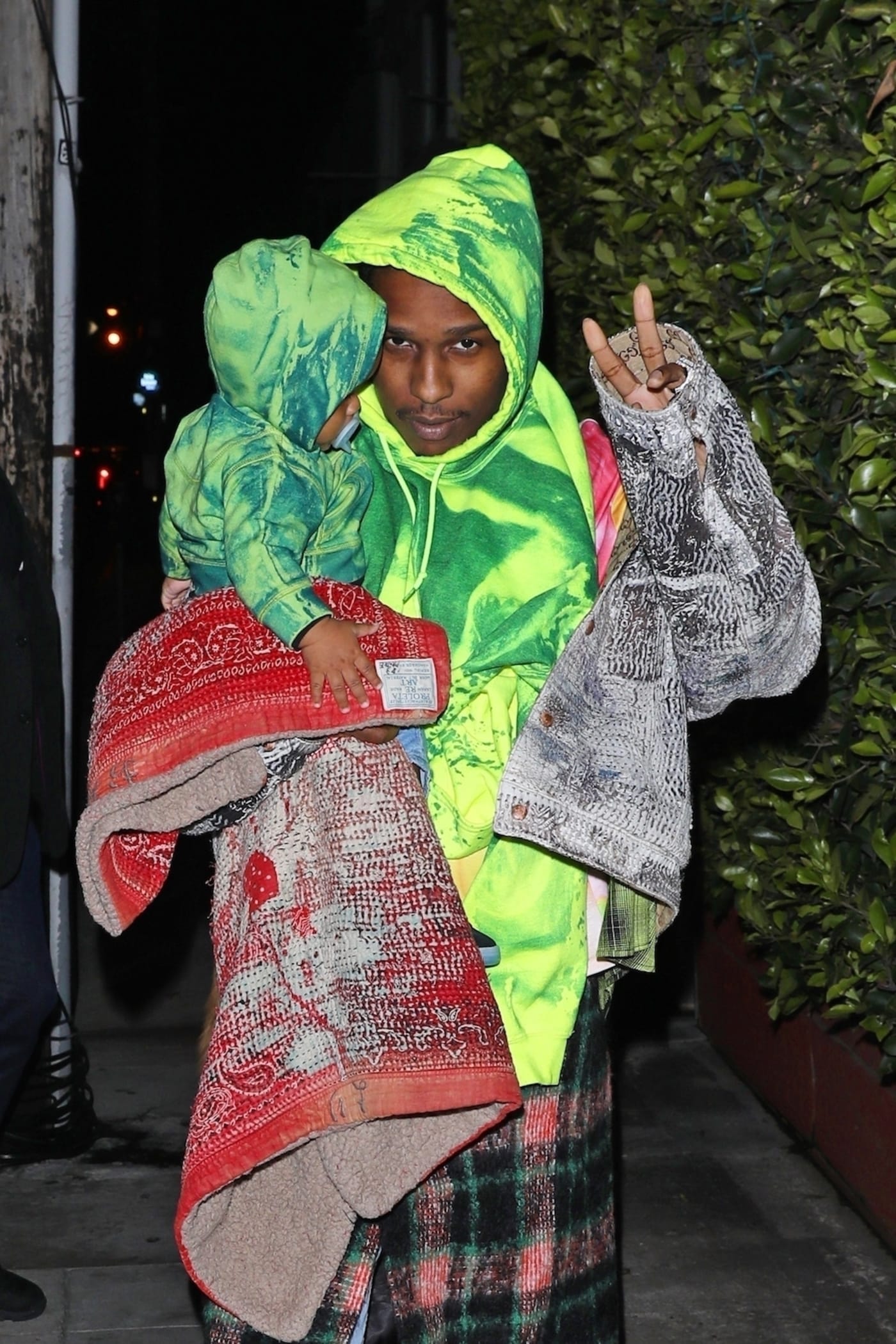 Standout Piece: Custom matching 85 Eldridge hoodies.
For another recent trip out to their favorite Italian restaurant, Rocky pulled out all the stops to not only dress himself but his son as well. Here Rocky wore a ton of exclusive Gucci pieces. The standout piece is an upcycled Gucci jacket by Proleta Re Art, an independent Japanese label that's recently gained widespread recognition for its bespoke garments crafted from pre-loved apparel. Yes, the blanket Baby Fenty-Mayers is wrapped in is also by Proleta Re Art. Although Rocky's outfit had a lot going on, he kept his little one in mind with a matching neon green hoodie. The sweatshirt Rocky and Baby Fenty-Mayers are rocking is by 85 Eldridge, a small New York City-based label known for its unique tie-dyed hoodies that incorporate photos printed with cyanotype photo emulsion. Rocky also wore a hand-embroidered mohair beanie by the Japanese label Zigzag. As for Rihanna, she wore a fur coat, AWGE trucker hat, and a Yayoi Kusama x Louis Vuitton Nano Speedy bag.
Baby Fenty-Mayers' Easter Sunday Best
Standout Piece: Chrome Hearts bunny ears.
Obviously, if your parents are ASAP Rocky and Rihanna, your holiday outfits are going to be on a different type of time. These Fashion Killas did not play when it came to dressing little Fenty for his first-ever Easter celebration. Baby Fenty-Mayers' Easter outfit included a custom pair of Chrome Heart bunny ears and a double-strand custom pearl necklace from Amrapali set with emeralds, sapphires, rubies, tourmalines, and diamonds. If that wasn't enough, his parents also blessed him with a playpen filled with actual bunnies. This is surely an Easter that Fenty won't ever forget. But let's just hope he didn't soil those leather Chrome Hearts diapers yet.
Baby Fenty-Mayers' Throwback Track Jacket
Standout Piece: A Vintage Dapper Dan Tracksuit from Procell
Baby Fenty-Mayers has worn some incredible garments this year but none has quite topped this amazing piece sourced by the revered New York City vintage boutique Procell. While leaving a restaurant with mom in Paris recently, Baby Fenty-Mayers Fenty wore a vintage Dapper Dan velour set made with Fendi fabric. He also rocked a pair of baby Gucci Chelsea boots. Rihanna also came through with a stellar ensemble that included a Gucci Resort 2023 denim jacket with studs layered over another studded denim jacket by Maison Alaïa. Her look was topped off with a Courrèges mini skirt, studded boots, and Messika jewelry.
source: complex.com